The Appalachian Mountains
inspire me...
I enjoy painting pictures that highlight God's handiwork and illustrate His glory.
With every passing moment, light, shadow, and atmosphere combine to produce conditions so beautiful that they deserve to be recorded. These are the moments that I strive to capture on canvas.
Painter , Framer, Restorer
I'm a landscape painter influenced by early impressionist Claude Monet. I work with oil on canvas to paint scenes from photographs I've taken in the Appalachian Mountains.
I earned my degree from University of Georgia – go Dawgs! – and have been cleaning and restoring paintings ever since.
After college I studied to become a Master Carpenter, built a cabin in the mountains outside of Helen, and started a family. I learned pretty quickly that framing pays more bills than painting.
I have managed to make time for some paintings that I'm proud of; scroll down to view my gallery of work or order prints.
My frame shop is 5 miles outside of Helen, Georgia. So if you're in the Atlanta Metro Area or North Georgia and need your art framed or cleaned, come up and see me as an excuse to visit Helen for the day.
Art cleaning and custom framing has been my bread and butter work for decades. I can do everything from simple frames for the home to museum-quality frames with UV glass. 
Call me (706-768-5397) to discuss your framing or cleaning needs and get an idea of what it would cost.
Art Cleaning and Restoration
I've accumulated over 40 years of painting restoration experience since I first learned the skill and techniques at the University of Georgia.

I provide everything from basic cleaning of museum and gallery pieces to full restorations of smoke or water-damaged paintings.
Precision-built Custom Frames
I build custom frames for fine art and photographs as well as shadow boxes for memorabilia of any dimensions at my studio and workshop outside of Helen, Georgia. I've been a master carpenter and frame builder for 30+ years and can build a quality frame on most budgets from home decor to museum quality with UV glass.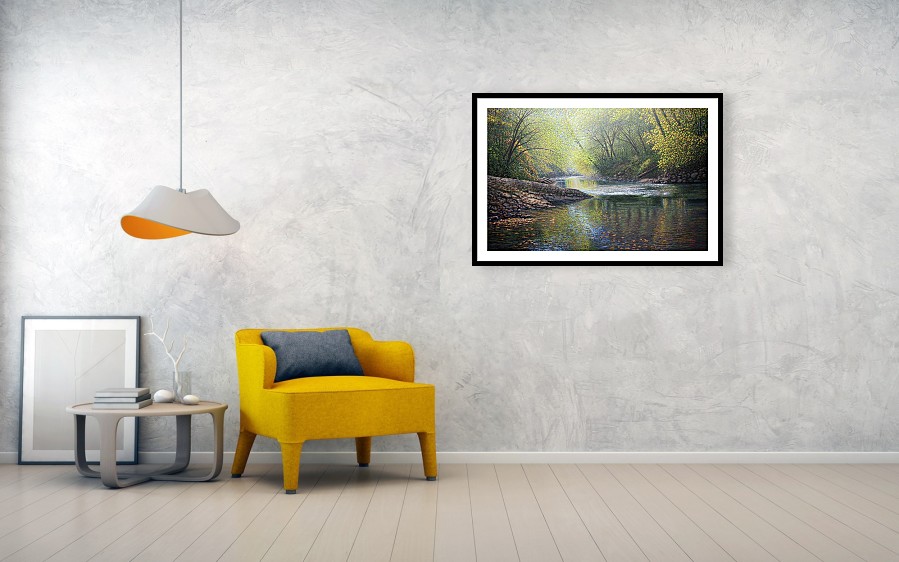 I've partnered with the world's largest art website to make high-quality prints affordable on a variety of materials.
Choose framed prints, canvas, metal, acrylic, wood, greeting cards or even throw pillows and iPhone cases!
They'll print my art on whatever material you choose, ship it directly to you, and offer a 30 satisfaction guarantee.